Pay-per-view framework
Available for Nimble Streamer and Wowza Streaming Engine
Some businesses want to control their streaming process on per-user and per-stream level in addition to general protection methods like hot-link protection or geo restriction limitation. This is required especially for pay-per-view (PPV) systems where viewers pay for accessing the media.
What can we do?
We provide a framework which allows collecting detailed data for all connection and making decision to allow or deny each connecting user. This may be used for pay-per-view and pay-per-minute logic, calculating each user simultaneous connections, stats for unique visitors and much more.
These are the steps for a customer to integrate those capabilities into customer's workflow:
Implement PPV API handler which is able to accept POST requests.
Set up handler parameters within WMSPanel.
Add PPV signature to media links (streams' URLs).
Enable PPV signature process via WMSPanel.
Having all that the general workflow would be as follows:
A media server (Nimble Streamer or Wowza agent) sends request to handler on a periodical basis. The sync contains all users' IDs, IPs, delta of view time between sync-ups and media names.
Customer handler makes required decisions based on company business logic and sends response to media server. This response specifies which users must be blocked from watching media.
Blocked users are shut down immediately, while others keep watching.
So let's go step by step to implement it.
1. Create PPV handler
WMSPanel uses push API. Nimble sends requests to customer's handler. This handler must be accessible via HTTP/HTTPS and it must be able to accept POST requests. Those requests may be formed via either JSON or XML, this can be set up in WMSPanel settings.
Handler needs to do a few things:
parse incoming request (e.g. decode JSON document);
make query to internal users database to append consumption updates and make decision about who may keep accessing the media (e.g. watch video);
return encoded response which contains users' IDs that must be blocked from accessing the media.
Handler needs to return list of all blocked IDs on every sync. If some ID is excluded from the list, it will be allowed to access.
Please check a basic handler example for PHP. It just takes incoming request, logs it and returns a couple of IDs to be blocked. You should take a look at full JSON request example and handler response sample as well.
2. Set up API parameters for handler
Now we need to set up a link between Nimble Streamer instances and the handler. Select Control / API setup menu and select Push API tab which is the one we are going to use now.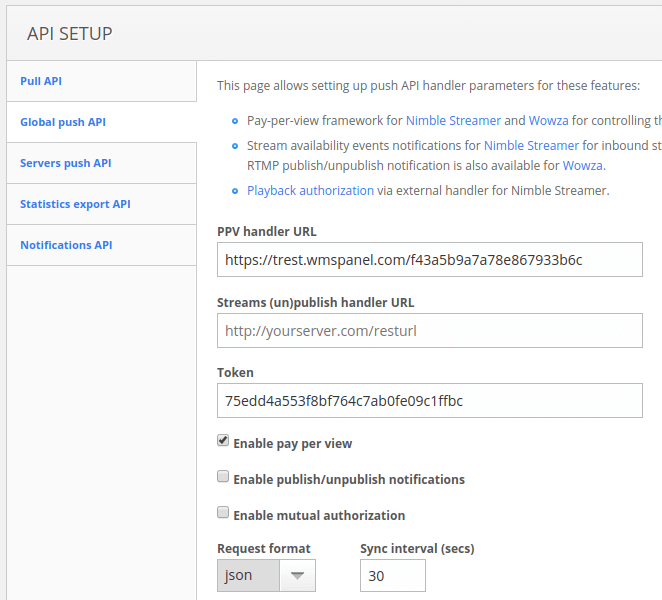 Define the following:
Enter handler URL into PPV handler URL field;
Click on Enable pay per view check box;
Select Request format or leave default "JSON" value;
Enter Sync interval or leave default 30 seconds.
A few seconds after you click on
Save
, the first sync-up will be sent to your handler.
3. Make media URL PPV signature
In order for Nimble to start sending requests, some changes must be made on your web server side. Media URL needs to be modified to include special signature, that would contain required information.
For example, you have this URL for your live stream:
http://video.wmspanel.com:8081/live/stream/playlist.m3u8
The modified URL would be:
http://video.wmspanel.com:8081/live/stream/playlist.m3u8?wmsAuthSign=c2VydmVyX3RpbWU9MDMvMDEvMjAxOSAwNzozMTo0NCBBTSZoYXNoX3ZhbHVlPVZGOHBLUE44Z0ZTYUQrM0p5c0pNYlE9PSZ2YWxpZG1pbnV0ZXM9MTAmaWQ9SURfMQ==
To generate signature you need to modify your front-end source to include code snippet.
Click here to see the PHP source code to generate this signature.